In common with our other control boards the Switching Hawk can simply connect to a free USB port on a standard PC to provide control of up to 28 switching outputs.
Simply connect the Switching Hawk to any free USB port to give immediate access to 28 high voltage switches (up to 50v). With in-built protection diodes, the Switching Hawk's 28 high voltage switches can directly connect to a wide range of devices including Electric Motors, Relays, Lamps.....In fact anything that can be operated by a simple DC electronic switch up to 500mA..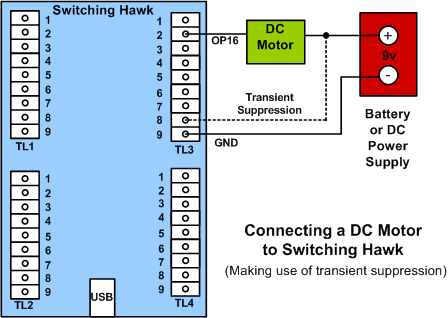 Programming
The Hawkeye software supplied with the board provides a PC based application allowing independent on/off control of each of the 28 switching outputs by simply clicking on a screen button.
This, in itself, provides a very useful control facility which can be applied to a wide range of projects. However, the real power of the board becomes available when it provides those facilities to the programmer writing his own control software using the supplied DLL function library. This DLL allows user programs written in a wide range of languages (eg C, C++ and Visual Basic), to have easy access to it's facilities. This gives the programmer simple to use functions like
Sys_Initialise( ) and
Switching_SetOutputs( BoardNumber, Outputs )
... rather than having to address the tricky USB comms protocols. Multiple hawk boards of any type on the same PC are automatically accomodated and made available by a simple board number allocation.
More information on programming in Visual Basic and also in C++ is available within the manual, which may be downloaded below.